In Astral Tournament duel you fight the other mage (computer or other player) for control of magical plane using creatures and other spells.


The creatures and spells are of the following magical elements: Air, Fire, Water, Earth and Death. Each mage starts the duel with 50 life points. Each mage has five more numbers - they show his power in appropriate magic element. These powers affect the spells the mage can cast and the power of the spells also. (e.g. if your Fire power is 5 you can cast fire spells or summon fire creatures with level 5 or less). Each time you cast spell/summon creature with level X your appropriate element power reduces by X. And each turn all of your powers are increased by 1.


Each creature has two stats: attack strength and life number. If the creature attacks player/other creature that player's/creature's life is reduced by the attack strength the attacking creature possesses. If the creature's life is reduced to 0 that creature dies.


The object of the duel is to defeat your opponent by reducing his life number from 50 to 0.
You can play against other people over Internet.


Click on thumbnail to view full-size screenshots: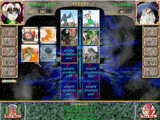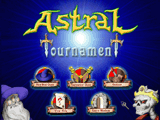 As a usual, you may download trial version (5.5 Mb) and decide if it fits you. If you find it good enough, you should register it. Registration fee is only $19.95!
System requirements:
Pentium MMX compatible processor
at least 64 MB RAM
videocard with at least 2 MB of memory
10 MB of free disk space
sound card is not required, but recommended
Windows 95/98/2000/ME/XP